Carriers are constantly drowning in dozens of documents that regulate where a truck can travel and what it can haul. PermitsLink makes it easy for carriers to manage, organize, and distribute these documents to drivers. With 24/7 document access from the PermitsLink mobile app, drivers can get the documents they need whenever and wherever. With the requests feature available in the app, drivers receive immediate help, and office staff drastically reduce their incoming calls. Together, these tools make PermitsLink perfect for keeping the fleet compliant and moving.
Learn More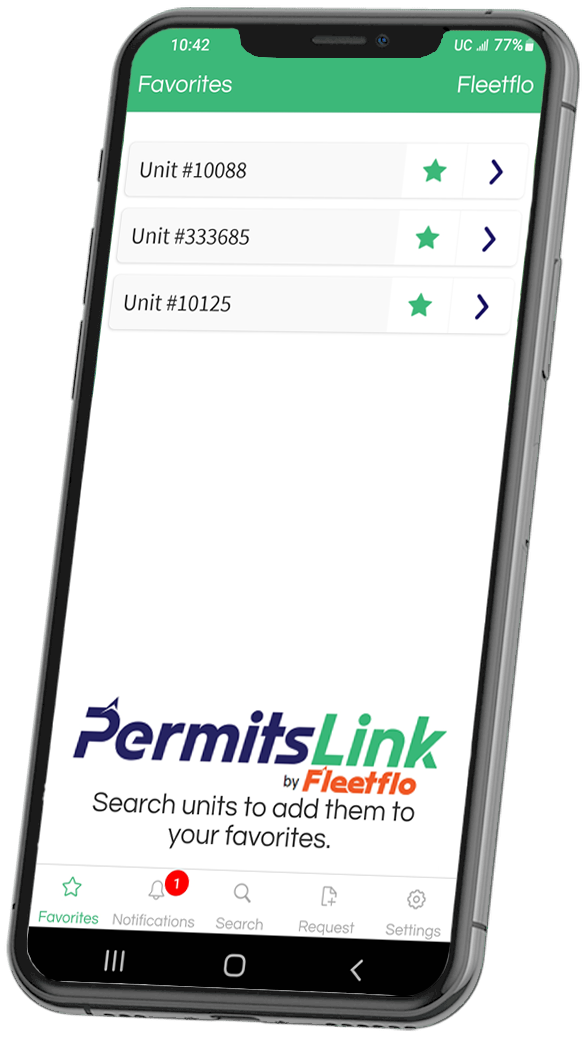 Features
Offline Document Access: Drivers can download the documents they need and access them from anywhere, even without internet access.
QR Code Generator: Custom QR codes make it easy for drivers to share documents with enforcement.
Easy Document Uploads: Carriers can effortlessly upload thousands of documents in an instant.
Document Organization: Quickly find the documents you need, with the advanced search function.
Mobile Document Access: Download the app directly from the Google Play or App Store.
Easily Share Documents: Fax, print or share documents directly from the mobile app.
Expiration Notification: Get notified if you have a permit expiring to keep your fleet compliant.
Send Requests: Allow drivers to send requests directly from the PermitsLink app.
Benefits
Peace of Mind: Wherever in the country your drivers find themselves, know they have fast, quality access to everything they need.
Maximize Efficiency: By uploading thousands of documents at once, office staff saves time on their screens, and your drivers save time maintaining their books.
Reduce Downtime: When an officer requests documents at a port of entry, drivers can quickly provide them with the information they need via fax, e-mail, or the in-app QR code. This dramatically reduces stop time and gets drivers back on the road faster.
Cooperation: Be the solution rather than the problem when engaged with law enforcement.
Reduce Service Calls: Nearly eliminate incoming calls from drivers looking for misplaced documents. Registration and Insurance cards are readily available at all times or simply obtained through the PermitsLink request feature.
Frequently Asked Questions
Which permits are required for a vehicle to cross state lines with commercial goods?

Regardless of what you haul, any vehicle above 26,000 pounds in gross combined weight crossing state lines must be registered in the International Registration Plan (IRP) and with the International Fuel Tax Association (IFTA). Additionally, four states, KY, NY, OR, and NM, require vehicles to be registered to pay the weight mileage taxes. These six forms make up the most common permits needed for heavy highway vehicles.

Additional permits may be required depending on what the vehicle is transporting or how it is transported. Common items requiring additional permits include but are not limited to alcohol, Hazmat, and milk. Non-standard methods of transportation requiring other permits can include oversize, overweight, long combination vehicles, and much more.
---
What are common issues with maintaining a traditional truck book?
Maintaining a truck book can be difficult for any carrier with multiple trucks. The number of documents that must be up-to-date and match the vehicle is staggering. Although most people wouldn't think it too difficult to keep these records straight, carriers go to great lengths to keep their books in order.

When interacting with roadside enforcement, permit books are often out of order, disorganized, and missing essential documents, which may have been removed at a previous stop. Even in their best condition, truck books are unique to each carrier, presenting an inefficient process for officers.

Common issues for carriers can include:
Books get lost as drivers take them in and out of buildings
Weather damage or expected wear on paper documents
Documents aren't current
Drivers carry a book as they move from truck to truck, causing mismatching records.
---
Is a digital truck book accepted by state and federal law enforcement?
According to the IFTA Article of Agreement segment R620, since July 1st, 2019, a licensee has the right to produce an electronic image of their license. As well, the IRP Plan Section 600(b) states, "Jurisdictions must accept paper originals, legible paper copies, or legible electronic images, whichever is presented by the Registrant."

According to a study performed through Allstate, digital insurance cards must legally be accepted by 49 states and in the District of Columbia. New Mexico is the one state that does not require officers to accept digital insurance cards but presenting one will rarely cause an issue. Many states also require officers to accept permits like Oversize and Overweight permits in digital format. Other licenses are at an officer's discretion.